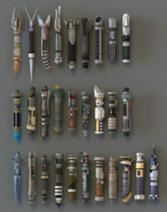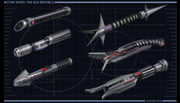 Guess what guys you get to make your own lightsabers!!! its simple just destroy some of your enemies pick up some parts go to a work station and create it how you want to look like and what color, also you can make your own guns choose how you want it to shoot but of course you got to use credits to build your weapon but you can save it for later on to build here are some weapons that you could buy from the store if you dont want to make a weapon. By the way some weapons you get level up and get stronger and look better so be prepared to level up.
Ad blocker interference detected!
Wikia is a free-to-use site that makes money from advertising. We have a modified experience for viewers using ad blockers

Wikia is not accessible if you've made further modifications. Remove the custom ad blocker rule(s) and the page will load as expected.